August 3, 2017. We travelled from Huntington Beach to Santee, CA (18 miles northeast of San Diego) to a place called Santee Lakes Recreation Preserve. We would normally have taken 405 to 5 South, but our GPS took us down 73 South, which is a toll road freeway.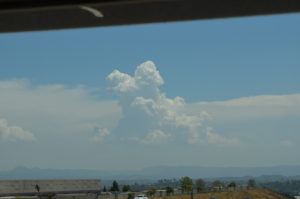 What a difference, as there barely any traffic, lots of lanes, and our Bay Area Fastrak works anywhere in CA.
There was one rest stop southbound on 5, and that was at Aliso Creek Rest Area. It is a nice rest stop, but very busy.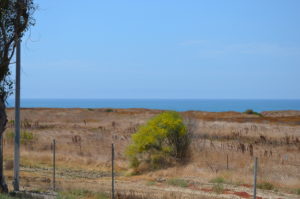 It does have nice views of the Pacific Ocean.
As we went over onto 805, many of you will recognize one of the most beautiful bridges that we see. I will have to find out what the name is, but it is iconic for those of you in the San Diego Area.
As a side note, our GPS is a Garmin 770 which is specifically made for RVing. It will ask you to put in information regarding your RV, including gross weight. It was a bit annoying at first, but it would take us down a longer path (even when we instinctively thought to try our normal car route) in order to avoid streets or freeways with weight restrictions. You can also choose to have it show you where the next gas stations are, RV parks, and even parking (for RVs), and just tap and shows you info.
Santee Lakes is huge. It is run by the Padre Dam Municipal Water District as a way to recycle water. It has 300 sites for RVs. Our friend, Jen, who lives locally and has been here a number of times even said that there is an arcade. There are 7 lakes and each are a quarter mile in length. There is fishing allowed, and you do not have to have a fishing license to get a day permit. There are also bicycle rentals, as well as kayak and canoe rentals. The rentals are near the Office and Store (at Lake 4), but it is about a mile from our camp site. You can stay at here for up to six months, and the most expensive site is $1010 per month (which includes water, electricity, and basic cable). I have to say coming from the Bay Area where a one-bedroom, maybe 900 sq. feet will run you about $3000 a month without utilities, Santee Lake would be a steal.
Our spot is large, nice a quiet, but the downside is that it is about a quarter mile to go to the nearest bathroom. The bathrooms are decent, and have locked shower stalls. Our spot is private enough where even though we have neighbors, they are hard to see from our vantage point. Cathe is an expert on cooking on campfires as she did that growing up, and she made us a great meal of boneless/skinless chicken thighs, with cream of chicken soup, and Rice-a-Roni in a dutch oven (basically a cast-iron pot). We used a galvanized stainless-steel beverage tub to hold the camp fire, and it is perfect to fit in our storage compartment.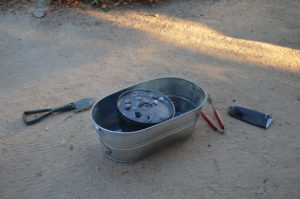 Colson even had fun using his "fishing pole" marshmallow camping roaster, but to actually BBQ his hot dog. Normally, you just tug on the fishing pole like you do when you catch a fish, and it would flip the marshmallow to the other side for even cooking.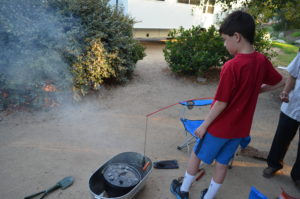 Our small excitement was that my Dad, who came along, went off after dinner for a 20-minute walk. After 30 minutes, Colson and I went looking for him in the dark, until Colson reminded me that we could just call my Dad, who always carries his cell phone. He had gotten turned around, but had found one of the park staff who was nice enough to drive him back.