August 2, 2017 – Our trip from Solvang to Huntington Beach was uneventful. We stayed overnight at my dad's house in Huntington Beach. I saw the El Camino Real bells along the way still, and the picture below is near El Capitan Beach.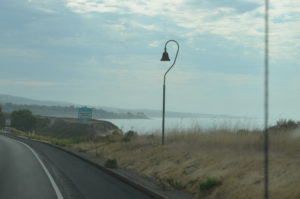 I even saw several as we were going through Thousand Oaks. I will say though, that I do not miss the traffic. We pretty much had traffic jams from 11:30am to 1:30pm. A couple of instances were due to accidents (including one that took out the center divider), but LA traffic just seemed to be compounded.
We filled up the gas tank a couple of times now. We are averaging 8.7 miles per gallon! Luckily, we have a 55-gallon gas tank.