August 4, 2017. We had a quiet day today as we spent a full day here at Santee Lakes. We started with cooking breakfast for the first time in what we are now calling the "Rig." Hash browns and eggs, sunny side up.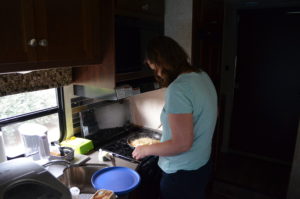 We learned something new in that we have to have the vent fan on in addition to the oven fan, or else the smoke detector will activate. It was probably more of the carbon monoxide being detected than the smoke, as there was not all that much smoke.
It was hot and humid around here at 91 degrees (though it felt like 101 degrees), and had the air conditioner at a comfortable 76 degrees. We went from our site to the office/store to get a cold drink (they even had ICEEs). We took the dogs with us, and it was a long walk.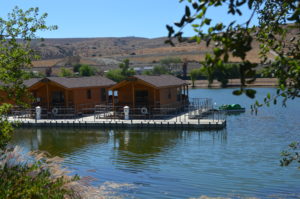 We went by Lakes 7, 6, and 5 to get something refreshing. The poor dogs were panting all the way. In fact, our little dog at one point refused to go one step further, and Cathe had to carry her for a little bit.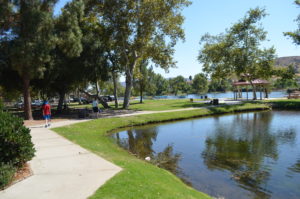 In the registration brochure that they gave us, there was a pizza place, Oggi's, that delivers to any of the camp sites. Colson likes pepperoni so we ordered a large half-pepperoni, half-the works (all meats and veggies), a pound of chicken wings, and a salad for two (Colson will not touch the salad). We had decided to order some food as it was still warm. In fact, it was still 77 degrees at 9pm. We set the air conditioning at 76 degrees so it would not have to work so hard.