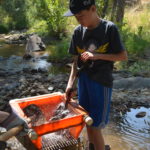 We have done our long trips for the year on the Rig, so now we are probably going to do shorter trips of one to three nights. Today, Grandma come along with us to do some gold panning up in Jamestown.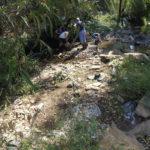 We have gone to a particular site with the company California Gold Panning, which is more of a one person operation with Miner Gary. The first time we went, Colson was sick as a dog, so he really did not enjoy the experience. This was our third time, and we had a blast. He has a pump that will move water through (much better than just using the stream itself).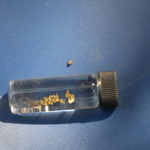 You are not going to get rich, but you may get a few flakes of gold, just enough to make the boy happy.
We got the two-hour excursion for up to six people, but the reality of it was we had the entire place to ourselves. It is a good workout.
We stayed at 49er RV Park. If you are looking for a rustic place to stay at, it is decent enough, but it does not have many amenities (e.g., no pool or hot tub). You can request a fire pit, and they have a quaint little store with friendly staff. If you have a large RV, you may have difficulty getting to some spots (very tight turns), but staff will guide you.