We stayed at the Palms at Pelican Cove. For whatever reason, we could not get a Mapquest or other internet map for it, as the address just refuses to show up on an internet map. The staff there, however, are really helpful, and you can get one of the managers there to send you directions (it is pretty straight forward if you have a person with you to navigate).
It has two rates (high season and off season), and is a bit pricier than other hotels. We did choose it for some of the things we thought it had, and others that we found out later.
First, it is one of the few that has two- or three-bedroom options.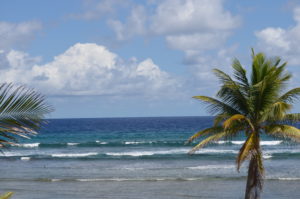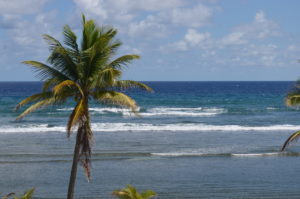 Either option has spectacular views of the views of the ocean front properties. Only drawback to this option, if there is one, is that these rooms are not on the ground floor. On the other hand, you don't have people walking by your space out to the beach (it was maybe 100 feet to the beach).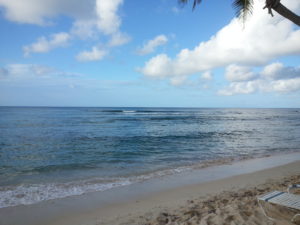 Second, for those of us who were not snorkelers, they gave free snorkel lessons (they always have free snorkel gear and towels for guests as well). They start you off in the shallow area, and take you farther out. You just sign up for the time, and they take you out. Feel free to add funds to the jar to maintain snorkel gear.
Third, even though it is beach front, there are areas where you never saw anyone else on the beach with you. The water is warm, and because there is so much salt, you are incredibly buoyant. You can almost just lay flat on the water and not even sink. The slight drawback is that the area is more for snorkeling that swimming, as a good part of was is underwater as some assortment of things growing on it; just don't step on the sea urchins.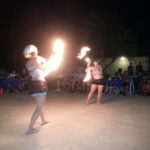 Fourth, the hotel restaurant has them nights, including a Monday night that is Caribbean Night Buffet.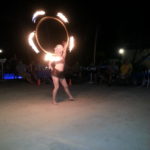 People from all over come to it, so get reservations. For hotel guests, it is $25. There were fire dancers and moko jumbies (stilt dancers). Only slight drawback to the fire dancers was when one of the dancers lost control of her fire stick and it launched at Cathe.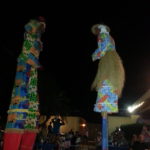 Luckily, it fell a bit short. The same dance also caught on fire for a few seconds, but she calmly continued her routine while swatting out the fire.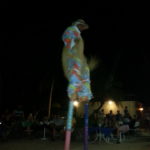 Oh, a cautionary note on the bugs in St. Croix, is that there are lots of flying creatures. There are some mosquitos that carry the Zika virus, and there are sand flies that you will never see. The difference is in the size of the bites, as the mosquito bites can give you large welts, and the sand fly bites are the size of a small pimple. Both Colson and I made the mistake of wearing shorts and not putting on bug repellant, and we each came away Monday night with about 50 bites each.