Back to some of our adventures in St. Croix.  What can I say about the Henry E. Rohlsen Airport (STX), the main (and only) airport on St. Croix. It is different and small. As you exit, you will notice that the airport is shaped like a "U" and where you exit is the bottom of the U. The car rental windows are the left side of the U. Word of advice, if you have a lot of baggage, leave it with someone you came with, and go to the car rental windows to get your car rental first. Normally, as you drive out, you have to pay at the exit booths, and turn left, but just show them your car rental paperwork, turn right, and turn right again, back into the loop that forms the U to pick up your baggage (and of course, anyone that came with you). Second word of advice, actually, more rules of the road than advice, you have to drive on the left side of the road, but the cars are made with steering wheels on the left side (like those driving in California). They have a saying there, "left shoulder to the left curb"; in all my time there, I managed to only scare my family twice by initially driving on the right side of the road.
St. Croix itself is only about 22 miles across, but it takes longer to get from one end to the other. Part of how long it takes, is that there is only one "freeway" on the island, or something close to a freeway, and that is Queen Mary Highway, in which the speed limit is an impressive 50 mph. Most streets have a limit of 35 mph. I would not suggest you get caught on the roads at night, as there are few street signs, and even fewer street lamps. If you are used to driving on mountain roads, then you might be OK. You just have to learn the signs of the road (like turn left after 20 feet from that gas station).
One big tip, get your hands on a free copy of St. Croix This Week. There might be a copy at the little store at the airport, and there are certainly free copies at any of the hotels. This magazine gives you pretty much everything you need to know about the island, from the different hotels and amenities, to the restaurants in the different areas. The best part is located in the middle of the magazine, and that is the St. Croix Road Map.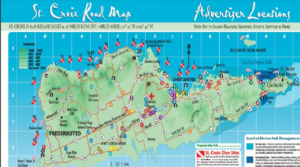 We tried getting road maps off of the internet, or buying a travel book on St. Croix, but this had the best map. If you cannot get a hardcopy, look at their website and download some pages before you go.