Saturday, August 5, 2017. This week went by so fast that I thought it was Friday, August 4. On our way to Castaic from Santee Lakes, we stopped by my dad's place to drop him off in Huntington Beach, have some lunch, and then do a little grocery shopping.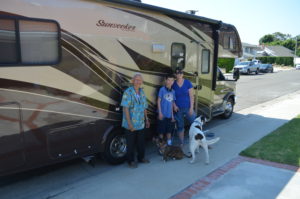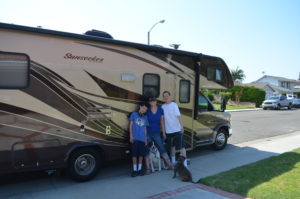 I will say that I really do not miss the traffic jams in Los Angeles. Most of the traffic was a little before, during, and after the Civic Center area in downtown LA, and you would not expect this much traffic on a Saturday afternoon.
An old family friend loaned us their car for our stay in Castaic, so it would give us a chance to get something to eat, etc. It now makes sense as to why some people will tow their car with them. It is a bit difficult to get around in a 27-foot RV.
We are staying at Valencia Travel Village. Cathe says that it was here when she grew up, but was not called the Valencia Travel Village at the time. This place is huge, though contained. It also has around 300 sites like Santee Lakes, but does not have the seven lakes, and is a camp ground, but more like a large traditional RV Park. The bathrooms here are decent, although it is odd that the bathrooms nearest the pool does not have showers. A funnier side note is that on the men's bathrooms with showers, there was a note that park management was trying to warn folks not to keep stealing the shower heads. Why would you want to steal shower heads in an RV park; it is not as though you can use them in a regular RV?
I have noticed that internet tends to be spotty at most of these parks. The best one we had was actually when we were at the Paso Robles place, where it was secured and decent. Santee Lakes had faster internet speeds, but you have to pay for that. Luckily, we did buy unlimited data with the ability to use our phones as hotspots, so that is nice. Each of our 4 devices has up to 10 Gigs of usage per month, and it looks like I am averaging 150 megabytes per day when I am uploading my blogs.
We did not want to get hot trying to do a BBQ meal, so we made a run to the local In-and-Out burgers at 8pm at night off of Lyons. That place has been around for a while as well.