July 30, 2017 – First night in an RV! We are at an RV park called San Francisco RV Resort which is on the Pacific Coast. The views are great and we have Spot 142, which is a pull thru. We have a chance to test everything out, see what is missing, and so forth. It is close enough to home so that we can get what we need if we forgot.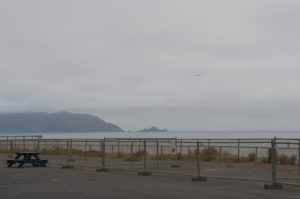 I don't know if you can ask for it, but if you are going for the pull through sites, they have to sense that go from spot 141 to 155 and 166 to 181. The sites are stacked East to West with spot 141 and 181 closest to the Pacific Ocean. As mentioned, we are in spot 142 and as I write this, I can hear the waves crashing into the shoreline which is a beautiful sound.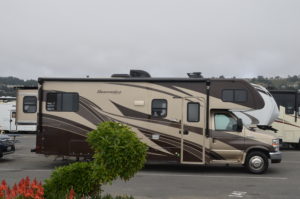 The picture above is of our RV with the rear slideout that gives us two extra feet.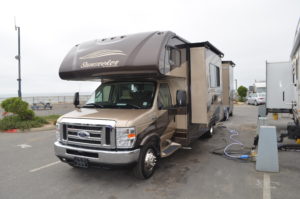 The picture above is a shot of our side slideouts and hookups.
Anyways, we drove up, checked into the place, they explained where we needed to go, as well as some of the rules. It is a lot like checking into a hotel, except for the fact that you have a space for your RV versus a hotel room. Never having been to an RV park, you find out that there are actually check-in times, as well as checkout times. This particular RV Park has a check in time of noon and a checkout time of 11 AM on the following day.
It does have the amenities of a hotel, such as a little store (with the exception that the store contains RV parts and equipment in addition to other stuff), a pool and a hot tub, and a play area. The pool and spa is open from 10 AM to 10 PM (but only adults between 8 PM and 10 PM). This particular RV Park also allows for pets, although we didn't bring our two dogs yet. They will be coming with us tomorrow. There are bathrooms in which there are also shower stalls, and the bathrooms have punch codes.
Well, the one thing that we did learn is that our water regulator and things attached to it are leaky, so we may end up having to get another water regulator. For those of you (and that includes us) who didn't know what a water regulator is, you do not know the water pressure that comes out of the RV park. A water regulator will help ensure a reasonable flow of water to your RV from the park so that it does not blow out the plumbing systems in your RV. The one that we got is the kind that you can adjust the flow, in case there is not enough pressure for a shower. The other thing to remember is that you should use a hose that is safe for drinking water, and not a regular garden hose. You do need the regular water hose in case you need to flush out your sewer system, but we have not done that yet, and it will be a while before we try.
The other thing that we've hooked up is a surge protector for our 30 amp system. You can have two kinds, we did not know it until somebody told us, but there is one that is good for one use and there is another that you can use on a regular basis. Similar to the water regulator, the surge protector ensures that you do not blow out your electrical system. We got the multi-use one.
We are also testing some of the equipment, and Colson has learned that there are certain programs on his iPhone which are not compatible with the TV. You can use something called an iPhone adapter to HDMI in order to use the TV to see what is on your iPhone, but as I mentioned, some things just don't work. However, for certain programs, it works great, and the adapter also has a slot so that you can charge your phone on a regular charger as well.
I am spending the night with just Colson, as Cathe, her sister and her mother are at a Neil Diamond concert in San Jose. She will join us tomorrow.