Friday, August 18, 2017. The nice thing about the Hilton Garden Inn in Renton is that it has RV parking, though I would not recommend anything longer than a 27-footer. You have back-in spaces on the side of the building. The hotel also has a nice indoor pool and great (and hot) hot tub for relaxing after a day of walking.
We decided to spend the day touristing (is that a word) in Seattle. The hotel offers shuttle services to the Tulwika light rail station, so we were off by 10am. If you are doing a round trip, just get the day pass ($6 for adults and $3 for Colson), as it is only double the single way rate. We went to the Westlake Center station, which is about a 20-minute ride on the light rail. From the Westlake Center station, we walked across to the actual Westlake Center, and went up to the 3rd floor to catch the monorail. The monorail has only one stop to the Space Needle area and it costs $4.50 a person. Just remember to bring cash, as the monorail only accepts cash. There is a cost to get into the Space Needle of $19 to $29 a person, depending on the time of day (at least they accept a credit card), and we grabbed lunch first at the nearby food court before we went up to the top floor.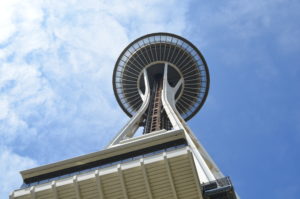 They will take a group picture of you, and you get a free picture for each ticket, and you get to superimpose the background (select and email it to your email in the gift shop).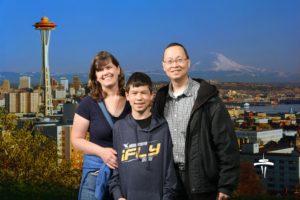 It is a gorgeous view on the elevator ride up (and down). They only let so many people up to the top, so even with tickets every half hour, just try to be there early. The views at the top level are even better than the elevator rides.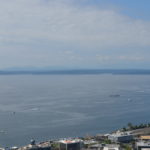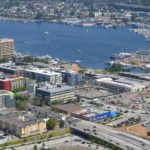 Although we did not go into the restaurant, there is a snack bar at the viewing level, in case you get the munchies. They have a large gift shop, so it was amusing to spend some time in it. The outside areas reminded me of being on the Venice Boardwalk, lots of vendors, lots of street music, and just lots of activity.
We chose not to go to the nearby museums, including the glass museum, and the historical museum that had the terra cotta soldiers. 
Colson was just as happy reading his kindle everywhere, but did look up every once in a while to look at the views.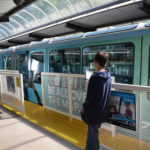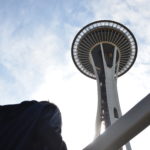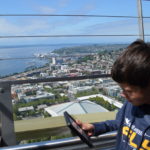 We next went to Pike's Market Place which is only about four blocks from the Westlake Center Station.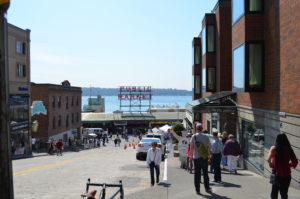 Cathe remembers them throwing fish back and forth. That would have been a sight. However, when we got there, it seems to have changed over the years. There are still the fish markets that seemed to have an abundance of everything, including King Crab that is huge. However, for those that have been to Fog Fest in Pacifica, or a swap meet, it is a bit like that, but even busier and somewhat inside with at least two floors. It was just lots and lots and lots of people everywhere.
On the way back, both Cathe and I thought that we were glad we did not try to bring the Rig into Seattle even if there was RV parking (and most of the forums said there really was not any). Seattle streets reminded us a bit like San Francisco streets, a bit narrow, with lanes just for buses. It was crowded even for a Friday.
We decided to have dinner at on old favorite, Popeye's. However, it was a mile each way to the place, but don't tell Colson that. It certainly was good exercise.