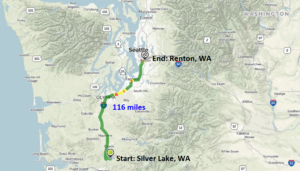 Thursday, August 17, 2017. We decided to pack up and leave for Renton, WA (a stone's throw from Seattle) a day early, in order to spend an extra day in Seattle. While Silver Lake is beautiful, there was not much to do, at least for an entire day. Trip to Renton, was straight forward enough, and we stopped by another McDonald's to get lunch. I think it was off of Mile 96 marker (Rush Rd.), and it had premium ice cream. Not sure if it was this particular McDonald's or all of them nearer to Seattle.
The other odd aspect about the Seattle area is that we could not find a decent RV park to stay at, so we decided to stay at the Hilton Garden Inn, in Renton, WA.
We had a chance to spend some time at the local iFly which is only a couple of miles from where we would be staying. They were having a special in which it was not only cheaper to fly, but also had coaching included (which is pretty rare).
Colson is getting really good, and is almost ready for to become a Level 3 flyer (there are five levels, Levels 1-4 and a Pro level).
What was really interesting was that the #1 world champion was actually doing some tunnel time there, and he and his partner were really amazing. The guy is only 16 years old, so maybe Colson has a chance someday. Apparently, the champion's parents may build him his own tunnel someday, but I don't think Colson's parents are quite that ready or well off.