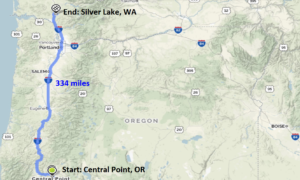 Tuesday, 8/15/2017. We had over 300 miles to go to make our stop in Silver Lake, WA. I had booked 3 nights as I thought the RV Park was 40 miles from Seattle, not 130 miles. Who knew that Silverlake, WA (40 miles from Seattle) is not the same as Silver Lake, WA (130 miles).
As we were pulling out of the RV park in Central Point, OR, we stopped by the Pilot gas station on our way out. The attendant came up, and started asking me what gas, how much, etc. Me, being as cheap as I am (and not wanting to pay the full service price). The attendant started off the process, and then went to help another. Then I saw a third person drive up, opened their gas tank, and just waited. So I asked Cathe to google it, and lo and behold, it is illegal to pump your own gas in Oregon (also New Jersey as well). A 1951 regulation now states that you can get fined $500 for pumping your own gas. Both Cathe and I waited and would not even dare touch the pump once it was done. I asked the attendant for the receipt, he gave it to me, and we were off. I was not even sure if we had to tip (it seemed cheap at $2.49 a gallon plus 5 cents off with the Good Sam's discount). We had to stop again to get more gas in Woodburn, OR, just north of Salem (we decided never to go below half a tank, and getting less than 9 miles per gallon, well, you do the math), and another attendant ran up. Add that to things you never knew to ask in California and probably want to know next time you are in Oregon.
We got some soda from McDonalds across the street from the gas station in Woodburn (off Oregon Hwy 214). It was a new McDonalds, as they had their Quality Assurance (QA) people going through the store (a bit creepy as some of us were using the bathrooms and them QA'ing the bathroom interior). I had not seen the self-serve order machines yet, and they also had the number tents so that a McD's crew member would bring you your food at the table.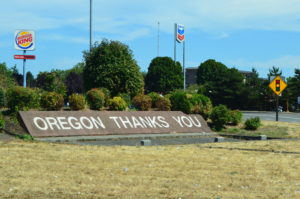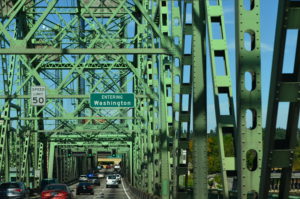 The RV park at Silver Lake, WA is part of the Highway West group of parks, and must be the newest. It is so new, that some things are not even open yet. Our site was on the end, next to the brand new cabins (not in use yet), so we had a very quiet site. The bathrooms were nice, and they were the self-contained bathrooms (sink, toilet, shower) with locking doors; just don't mine the unfinished construction. It was about a half mile walk from our site to the office, as we could not figure out where to rent the paddle boats and kayaks, but the office was closed by the time we got there. Our only challenge for the next few days is that we did not bring enough fresh food to last us the three nights, so we will probably go out to the grocery store. Also, we happen to pass by the Mt. Saint Helens visitor center, so we will have to figure out how close we are to the mountain.
Colson is actually getting very good at starting a fire.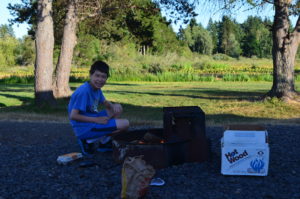 He is using some wood, flint, and a fire starter. Soon he will be able to use just natural materials.