Tuesday, August 8, 2017. We were debating whether to drive all the way back home for a couple of days break before heading out for Seattle, or to stop by somewhere for the night. We made reservations at Santa Nella RV Park, just north of State Highway 152 on Interstate 5.
Ever been in a grocery store in the meat section and see the Harris Ranch brand? Well, there actually is a Harris Ranch with a hotel and two restaurants (one fancy, one for the family), and a bar area, as well as a little store in Coalinga. It has its own little airplane landing strip. Cathe, when she lived down in Santa Clarita, would go with her family to meet up with her sister and husband (from the Stockton area) for years every Christmas eve. It was where I met her sister for the first time, when Cathe and I were dating. Food is great, and we decided to stop there for an early lunch. Cathe had the tri-tip sandwich which melts in your mouth. Colson had the filet mignon which practically melts in your mouth, and I had the prime rib, which is served all day. Bring a cooler if you want to get some fresh steaks from the store to go.
We did decide to stay in Santa Nella versus driving all the way home, as after a good lunch, Cathe and I were yawning a lot. Got there at 2pm, and it was 93 degrees already. I think this is Merced County, and someone had suggested I could get a job here. I think it is just too hot (Pacifica has spoiled us to living without air conditioning, etc.). No pool here, but the bathrooms are really clean and showers are locked stalls. The really nice thing about this park (aside from it being just $32.40 after the 10% Good Sam RV Club discount) is that it is really close to a number of fast food with nice air conditioning, like In-and-Out Burgers (though you do have to run quickly across the street).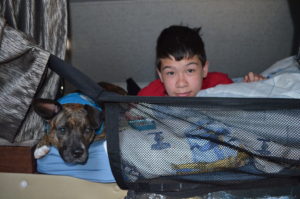 For those that do not know Good Sam, it is like a AAA membership, but for RVers. Having membership also gives discounts at Camping World (for all those knick knacks you never thought you wanted for an RV trip) and at RV Parks that accepts Good Sams discounts. It also offers great insurance to cover both the Ford 450 chassis, as well as everything else in the RV. Ours was less than $700 a year. Another side note, and I may have mentioned this, is that the interest on your RV is considered tax deductible as a mortgage, as an RV is considered a mobile second home. Go figure.