Monday, August 7, 2017. This was a quiet day for Cathe and Colson. Cathe did a bit of shopping to pick up some stuff for the Rig. One of our challenges is what to do with the toilet paper roll as there is not that much space in the bathroom. Imagine an airplane bathroom that had a shower added to it. Luckily, our rig model has the sink on the outside of the bathroom, so it gives us a bit more space.
I spent the day at USC for new faculty orientation. My dad had gotten his PhD here back in the early 70s, so the building with the globe on it is historic and you see it in all the pictures.
Remember that old cartoon about Felix the Cat, and the theme song, "Felix the Cat, the wonderful, wonderful cat…"? I used to love that cartoon. As I was walking to the metro station, I saw the dealership with Felix the Cat!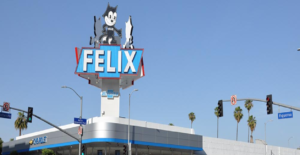 I had forgotten that it was there, and still is after all these years. Apparently, it is over a Chevrolet dealership that has been opened since 1922, and is a historic cultural landmark in LA.
I took the Metro back to Metrolink at Union Station. Metro has these tap cards now, where you literally have to tap whenever you are entering/exiting the system. What was really new to me was that you had to tap whenever you transferred to a different line (like from the Light Blue Line from USC to the Red or Purple Line at Metro Center in order to get to Union Station). A pretty straightforward ride from LA back to Santa Clarita.