We did not know at the time we were trying to book tickets to St. Croix that it was actually an exciting week for all the U.S. Virgin Islands. 2017 marked 100 years since the United States bought the Virgin Islands from Denmark for approximately $25 million. In fact, March 31, 1917 was when the US made the purchase. March 31st is an annual holiday known as "Transfer Day" and is an official holiday celebrated in the Virgin Islands. It just happened that when we booked the tickets, March 31, 2017 was going to be during the time that we would be there.
Although we did not get the deal, you can actually get a major discount if you book a hotel through the US Virgin Islands Tourism Department if you book by October 1, 2017 and traveled there before January 1, 2018, and stay for at least three nights. Not all hotels have the deal, but you could get up to $300 of US Virgin Islands travel credit to spend on official museums, etc.
If you do fly, I would really recommend that you get the TSA Pre-check program. You do not need to remove your shoes, laptop, your little travel pouch with liquids, your belt, or your light jacket. At the larger airports, you do not have to go to that body scan machine. However, for me, I have found it easier to remove my belt and jacket because it sometimes rings in different airports. It is just $85 a person, and well worth it if you are traveling at least several times a year.
We happen to fly United Airlines a lot. I know, many people have said and complain about United and we have had good and bad experiences with United. Their Mileage Plus program is decent and a couple of years ago, I actually got there United Club Visa. Every airline has some version of this card, and there is an annual fee of $450. They usually have some incentive like $100 credit, but when I got my card I got the first year's annual fee waived. The best parts are that: 1) you get Priority 2 boarding for you and anyone who accompanies you on the same flight (Priority 2 is just under Priority 1 or First Class boarding); 2) two free checked bags per person; and 3) access to a United Club for you and those traveling with you on the same ticket. Regular annual membership to the United Club is $550 per year per person, or you could buy a one time pass for $59 per person. It has a nice amenities, and I do like some locations better than others. For example, the one at SFO in Terminal 3, Concourse F, Rotunda and at Chicago O'Hare (ORD) in Terminal 1, Concourse B, near B6, both have the newer all-in-one soda machines. I think they are actually trying to install the all-in-ones at more sites. They have light snacks including a bit of continental breakfast in the morning, soup and salad in the afternoon and in the evenings. All of them have a bar that has a decent selection of drinks.
We decided to splurge and get first-class tickets on United both to and from St. Croix. Our flight there was from San Francisco international (SFO) to Newark (EWJ) to San Juan Puerto Rico (SJU) to St. Croix (STX). I purposely looked to find aircraft that had the seats that could fully incline 180°. A site that I have found really helpful is Seat Guru which can tell you by Airline and plane type of what seats to avoid. It is really nice to make sure that they are decent seats, and that the seats actually do recline fully, and are not problematic. One of the things that I did find out later was that you should consider sitting near to the front even in first-class as they tend to run out of certain foods once you get to the last seats in first-class.
Oh, one thing to note. If you do travel first class, and they give you those Priority Tags for your bags, make sure to keep them in the event that your flight back is on an island hopper, rather than a regular airline. I will tell you in another blog about flying back as to why.
Our flight from SFO to EWJ was approximately 5 hours and was a redeye.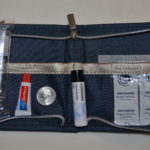 Because our seats incline 180°, you could get some sleep on the flight. However, because we were in first-class, there was a nice selection of entertainment on the screen, so is actually kind of difficult to get some sleep.  They did give us these cute little travel packs (one use tooth-paste, toothbrush, and lip balm) as well as our own blanket and pillows. Once we were at EWJ, we did spend a little bit of time at the United Club. It was an okay facility, and it was kind of odd because it was a circular shaped facility in which it was difficult to find seating.
Our flight from EWJ to SJU was about another five hours. It was an uneventful flight, and when we landed in SJU, there was no United Club. I was initially excited because they actually had Church's Fried Chicken. I really miss it for the time that I was in the Pasadena area. However, I soon learned that they didn't have any actual chicken limbs (breasts, wings, legs, or thighs), but rather large size chicken nuggets. I would have to say one of the funniest things I saw was that there was a staff member from Popeyes Fried Chicken who snuck some money to one of their friends so that they could buy some Church's chicken.
And then the flight from SJU to STX was a little island hopper, essentially a Cessna, that was about 45 minutes. This last leg of the trip was actually on an airline called Cape Air.  We landed in area B and Cape air was actually in area D and a bit of a walk. As I mentioned earlier, this is essentially an island hopper in which you are flying on a Cessna with double propellers. It is also one of those airlines in which they weigh everything from the bags to the passengers. For the bags, it is like playing Tetris in which depending on the size and weight of the bags they would try to fit them in either the right wing or the left wing. For the people, they would try to eyeball you to see whether or not you would sit in the front middle or back of the plane which in essence only had eight seats, one of which was for the pilot. It was really warm when we flew into STX, and it was not as though you could open the windows. The funny part was the pilot would go over emergency evacuation procedures, and all of us were thinking how can we fit in between the window frames of the emergency exit windows. We finally got into STX around 3:30pm in the afternoon.