For the longest time, we had wanted to take a vacation somewhere outside of the continental US. After watching all of these shows on HGTV such as Caribbean Life, Island Living, etc., we decided that we wanted to try one of the islands in the US Virgin Islands. The US Virgin Islands is made up of three islands: St. Thomas, St. John, and St. Croix. Initially, we thought that St. John would be great because it had a lot of resorts, and seemed to be less urban than St. Thomas. However, there is no direct access to St. John, as we would have to take a ferry or some other boat from St. Thomas to St. John. I was a little skittish about trying to figure out how to get to and from the airport in St. Thomas to St. John, so we decided on St. Croix.
Having never been to the Caribbean, we did a little bit of research. As everyone may know (but we didn't), St. Croix has lovely and consistent year-round weather at least in the 80s, with a bit of tropical flair. One of the recent drawbacks has been the rise in the Zika virus that relates to mosquitoes and other bugs. When we had gone to Michigan in the past couple of years, my wife found a great product that you could spray onto your clothes. It is called Premium Permethrin Clothing Insect Repellent Trigger Spray. You spray the clothes that you plan to wear, it is good for several weeks or several washes. It is as good as buying a shirt that is pre-treated, except that instead of buying just one or two shirts for me, we could spray all of our clothes. We also got some bracelets with natural insect repellents, as well as some insect repellent clips that you can click on your belt.  Both the bracelets and the clips are deet-free. Thing to note though, do not wear your bracelets into the water, as the waves will just wash them off.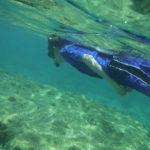 We brought our standard Nikon D5100 SLR camera with a standard lens, though the latest version is the D5300 with accessories. We also brought a Fujifilm XP70 (the more updated version is the XP120). Ours was waterproof up to 10 m. (331 ft.), and great for taking underwater picture (we will show more pictures in a later blog).
One of the things that I got for this trip was prescription swim googles. What I should also have done was also gotten prescription scuba masks. Both are really affordable.
The other major thing to figure out was whether or not we needed passports. The short answer is no, but in the end, we brought them anyways, and it made life a lot easier. We even brought the boy's passport as well.
One other thing, if you are a big Kindle person, we recommend the Kindle 3G, as internet is a bit spotty on St. Croix, even at the hotel we were at. More on that at a later time, but having 3G access was a lifesaver, as our boy loves to read. And having a Kindle 3G is a must.