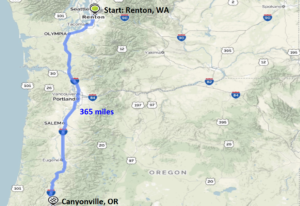 Sunday, August 20, 2017. We had a very early start today and decided to get Colson another 5 minutes of flying time at iFly at 8:30am. I can't figure out if these folks at iFly are ever closed, but they sure start early and end late. Colson is amazing at indoor skydiving and maybe when he turns 18, he will want to become an instructor.
Right after, we drove to Canyonville, OR, our longest leg we have tried at 365 miles. We were really worried because everyone (including the electric signs on I-5 in Washington) was proclaiming another carmaggedon and expect long delays because everyone on the West Coast was heading into Oregon because of the eclipse.
We got to at Seven Feathers RV Resort (by the way, the directions will take you to the Casino, and the RV park is about 1 mile away) within 6 hours of total driving, so that was good. The only downside to this RV Resort: no fire pits at the RV sites, and the general fire pits are restricted (reasonable because of the fire risk. Otherwise, in one word, WOW. This place truly is a RV Resort (oops, we have become RV snobs). The RV park itself is immaculate and clean. There are the individual single bathrooms (toilets and showers in a single room with a locked door). There is an indoor pool and hot tub at the park that would make most high-end hotels envious. You get 24/7 shuttle service from your site (where you parked your RV) to the Casino/Hotel/Restaurants and back to your site. The food at the Restaurants is great and they have daily specials; they must also cater a lot to Asians including Vietnamese as they have Pho Tai (Vietnamese Noodle Soup and Beef), Pho Tai and Bo Vien (Vietnamese Noodle Soup and Beef with Beef Meetballs Asian style), and Banh Mi (Vietnamese sub sandwichs). They even have a Dave&Busters-like arcade for Colson. All this for less than $50 a night for the RV park (and this is before the 10% discount if we have a Player Card which they give you for free). Yeah, Cathe hadn't let me out much so the little things like good food, hot tubs, and gambling are like candy to a baby (just kidding, Wife!).
Well, let a guy who rarely gambles in a casino for a couple of hours and you could have issues. I managed to come out on top, and won 6 cents. Pretty good after 2 hours.